AnswerPhone - A Better Answer
Your Phones Can Always Be Answered
Capture Every Inbound Call 24/7/365
Live Answering Service – Never Miss An Important Call Again!
AnswerPhone's professional USA based contact center can "Answer" your messaging needs, when you are not available. You may advertise our local-to-you phone number, or simply forward your calls to us, and remain in contact with your clients 24/7. Telephone Answering, Texting, Email, Chat and Appointment Setting are among the services that we offer.
Please call or text us at 800-234-8279, to learn more about the many service features we have waiting for your use.
Contact Us For A Quote Today!
Answer Phone is so sure that adding a live answering service to your business will substantially improve your bottom line! Call: 800-234-9395
You can save dropped calls, capture previously lost hot leads and increase your bottom line. There is gold that can be found in your captured calls! Having all your calls answered (instead of being sent to a machine) will make your business more profitable and your clients happier. Most people hang up on machines. If you give them a chance to do business with you, they will! Check out our amazing service and discover what you have been missing: More revenue!! Call 800-234-9395 to get started.
Sign Up For A Quote Today:
Your Calls Professionally Answered!
Answering Service Special Offers:
What are you waiting for? Contact us today to get set up and see our service for yourself!
Our sales team will discuss our current Special Offers!! Call 800-234-9395 to get started.
Try out Answerphone, your clients will be impressed and you will love the awesome Answerphone customer service. We answer to you, and for you when you cannot pick up the phone. You can receive your messages via text and email so you always get instant access to your messages. Call 800-234-9395 to get started.
Still not sure? Contact us for a free consultation: 800-234-9395 and discover how much more your business can grow simply by better servicing your current clients and having help to capture new leads you have been losing to hang ups on your voice mail.
Local Call Center Presence
With local phone numbers in hundreds of cities nationwide, we're only a local call away from you and your callers.
Personalized Answering Service
It all starts with understanding
YOUR
needs. Whether you're a Fortune 100 company or a one-person startup,
WE CARE
about providing customized telephone answering and call center services that are ideal for you and your clients.
We'll take the time to learn about your operations and explore, with you, options for meeting YOUR goals.  We value simplicity, but if your needs are complex, you'll have choices from an almost infinite set of sophisticated features seamlessly tailored to suit your company's needs and desires.
A Caring Voice
Answerphone offers a full suite of telephone answering and call center services, including email and web-based apps, 2-way texting, voice mail, IVR, appointment scheduling / reminders, and much more. As live agent services are the heart and soul of our operations, we spend the time and money it takes to recruit, train and retain people that are among the best in our industry. When YOUR clients call, they deserve to be answered with as capable and CARING a voice as would be your own.
Technology
Our online customer relationship management software enables you to input your schedule, update us on your status, retrieve messages and monitor call recordings, from anywhere in the world. We continuously update and upgrade our in-house technology and capabilities, so that YOUR choices and service features are always cutting edge.
Flexible Answering Service Packages
Answerphone provides comprehensive and customizable service plans for small businesses to international corporations, from medical offices to construction companies, and on budgets of just about any size: large, small, and everywhere in between. Whether you are in need of telephone answering or call center services, we have options that will WORK FOR YOU.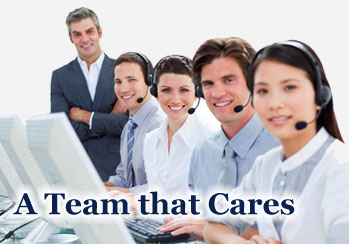 Call Center Agents are rigorously trained, highly experienced and detail-oriented with the skills to communicate in a personalized fashion, recite scripted content (if applicable), and collect and convey information accurately and efficiently. Your callers and clients will receive professional, courteous, individualized and CARING service, making YOUR business shine.
National Answering Service Capabilities. As a client of Answerphone, you would have access to the resources of a national-scale telephone answering service and business call center, operating in a 24 x 7 x 365 environment.
With a 60+ seat State-of-the-Art Contact Center, offices in several states, and nearly 100 employees, you'll receive dependable, consistent and superior results. We are confident we can earn your TRUST.
Dynamic Culture
Answerphone is a two-time honoree [2012 & 2011] of The Inc 5000, "The 5,000 Fastest-Growing Companies In America". We got there by listening to the needs of our clients, working hard on the many details of our telephone answering and call center services, and continuously monitoring and improving quality. We expect to re-join this list many times in the years to come.
"I just wanted to drop you a quick note to let you know how pleased we are with your services. It took 12 years of going through answering services to find your company and we are extremely happy. Your operators are professional and efficient. Our messages are relayed to us as we had requested and in a timely manner. The operators are good at running things by us that they are unsure of. I wish you would use me as a reference ….remember, I used to own my own answering service many years ago and your company has been the only one to satisfy our high standards for professionalism and good business practices."
Patti Aldi
"Things run so smoothly when you're answering our phone that we're actually trying to discourage our callers from trying to contact us any other way!"
– Tom Dowling
"I've had several answering services in the past, and since switching to your service, you have been flawless!"
– Ray Durelli
SYSTEM STATUS: PHONE LINES – OK | TEXT MESSAGING – OK | EMAIL – OK | FAXING – OK | WEBSITE – OK